Apollo 18
is a post rock band that's been causing quite a scene both in Korea and internationally since their breakthrough in the Korean indie scene. They're quite the decorated band; they won the "Rookie of the Year" award at the 2010 Korean Music Awards and the Grand Prize at the "Hello Rookie Award" the same year. And their
Blue
album
is seriously one of the best harder rock stuff I listen to, if that means anything. They've also made quite the progress abroad as well, performing at SXSW Music Festival last year, and finishing their very first Canadian tour just a couple of weeks ago. I had the chance to ask them some questions about their Canadian tour and music.
Click the cut to read what they had to say about their Canadian tour, possibility of a
Jellyboy
album, some Korean bands they think are worth checking out, and what they thought about real Canadian poutine. Oh, and some hilarious pictures from their tour included.
Q: First of all, can you all introduce yourselves?
Sang-yun
: Hi, we're Apollo 18 from Seoul, South Korea! My name is Sang-yun. I play drums. Dae-inn plays bass in our band and Hyun-seok is the guitarist. Dae-inn and Hyun-seok both handle vocals too.
Q: For those who might not be familiar with your music, how would you describe your music?
Hyun-seok:
We're a rock band. We play a mix of energetic hard rock and post-rock stuff. We like to play loud.
Q: What projects or bands were you guys involved with before Apollo 18?
Hyun-seok:
Dae-inn made music as a solo artist under the names Jellyboy and Birdy Bitz Alien. Sang-yun and I met him after he placed an ad online looking for backing musicians to help him perform Jellyboy music live. The three of got along great together, so we decided to form a new band which led to Apollo 18.
In Canada for the first time!
Q: Was this your first time in Canada? What was your favourite thing about the country, now that you've completed the tour?
Dae-inn:
Yes our September tour was our first time visiting Canada. My favourite thing about Canada was visiting Niagara Falls. I've wanted to go to Niagara Falls since I was a child. It was amazing to finally see it in person! Our schedule on this tour was really busy, but everyone knew that I really wanted to see Niagara Falls so right after we landed in Canada we went to our hotel to quickly check in and then drove 90 minutes to Niagara Falls. Later that night we played our first gig in Canada too. It was a busy day for us!
Apollo 18, visiting Niagara Falls
Q: You had 4 shows in 4 cities on your Canadian Tour. Did any interesting things happen during the tour? I really wish I've gone to your show in Ottawa, that's my hometown! I was totally surprised when I saw it on your list, nobody ever goes there to perform.
Sang-yun:
We got pulled over for speeding in Montreal. We've never dealt with the police in another country, so we were all really scared. We were especially worried because we can't speak French. But the police officer was very kind and let us off with a warning.
Hyun-seok:
The first show of our tour was in Hamilton, Ontario. Our "Orbis" music video stars a bellydancer named
Eshe
. Eshe lives in Seoul now, but she is from Hamilton originally. Eshe is a really good friend of ours and before our Hamilton gig we got to meet her family and have dinner with them. We were so thankful to them for welcoming us to their home. Another good friend of ours is also from Hamilton. His mom came out to see us play and brought us homemade cookies. They were fantastic and made for great snacks on the road. Our Canadian friends have really great families!
Dae-inn:
We had a great time in Canada. This tour was short, but we hope we can return to Canada to play in more cities in the future.
Q: How was the crowd? Were they any different from the Korean crowd? Or the American crowd?
Hyun-seok:
The crowds we played for in Canada were all really good. People were very kind and supportive when we performed and cheered and shouted. They also gave us many compliments after our concerts. The audiences that we've played for in Canada, Korea, and the United States have all been very similar. We've been really lucky that we've gotten to play for and meet so many great people in all three countries.
Q: Did you get to see any other artists during the Pop Montreal Music Festival? Were there any bands that stood out to you?
Sang-yun:
Unfortunately, we were only at Pop Montreal for one day so we didn't get to experience very much of the festival aside from our own gig. At our showcase concert we played with
Les Indiens,
Protofiev
, and
Jimmy Target & the Triggers
. All three acts were really good.
Dae-inn:
All of the bands we played with in Canada put on excellent shows. I especially liked
Mystery Machine
. We were lucky enough to open for them in Hamilton. They were f#cking awesome.
Fueling up at Denny's.
Q: So... how was the poutine?
Dae-inn:
The poutine was so good! Burger King in Korea claims to sell poutine on their menu. We were out in Seoul with a Canadian friend one time and he ordered Burger King poutine. He got really angry when they gave it to him and kept saying over and over again, "This is not poutine." We were laughing at him at the time, but now we understand why he was upset. Real poutine is delicious. That stuff that Burger King in Korea sells is not poutine!
Hyun-seok:
After we played at Pop Montreal, a cool website called
The Main
did an interview with us over some poutine. It was awesome. Next time we tour Canada, I hope we can eat poutine during all our interviews!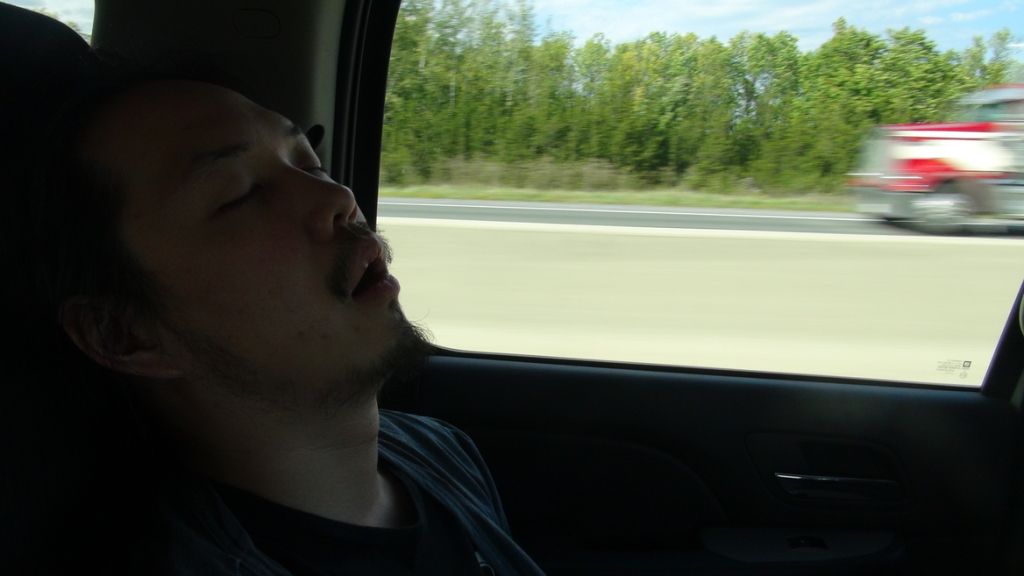 This is such a cute picture, haha
Q: Okay, moving onto something else now. Is the band planning on releasing anything new soon? When will the fans get to hear a new album?
Dae-inn:
We're making new songs right now, but we're not sure when we'll start recording them. We hope we can release a new full-length album sometime in the next few months.
Q: How do you guys write the songs? Is there a certain process?
Sang-yun:
All our songs are created by jamming together. We had actually hoped to release our new album this past summer, but we needed to find a new practice space before we started working on it and that took a lot longer than expected. We couldn't find a place we liked, so we decided to rent an old fried chicken restaurant in Seoul and tear it apart and build a practice room there. There's still a sign over the front door that says "Good Chicken." Fortunately, no one has banged on the door demanding chicken yet. It's great having a practice space that is completely our own where we can jam on new material whenever we want.
Q: This might be a silly question but I'm going to throw it at ya anyway. The first time I realized that the Red, Blue and Violet album(s)' covers could come together to form an image, I was completely mind-blown. It's brilliant! Who thought of it, and what's the meaning behind it? Was it planned from the very beginning for those three albums?
Dae-inn:
It was my idea to have the album covers form one image. When we first started Apollo 18, we planned right away to make the three albums that became
Red
,
Blue
, and
Violet
. Because we were a brand new band, we wanted to give ourselves space to experiment with different sounds and styles on each of the recordings. I thought it would be fun to have all three album covers form one image together. I wanted people to be surprised by what they saw if they had all three albums next to each other.
Q: Another question, mostly to satisfy my curiosity. Why do you name your albums with colour names? Are the albums supposed to invoke the colour they're named after?
Hyun-seok:
Red
was recorded in winter and the colour red made us think of warm things, which is why we chose that colour. Blue was recorded in the summer. Korea's summer is very hot, so using the colour blue made of us think of cool things.
Violet
was chosen because the colour is the combination of red and blue, and also because violet is my favourite colour. After those albums, we had planned to stop using colours for titles. The working title for our 2011
Black EP
was actually Gogol, but in the end we decided to just call it
Black
. That colour was chosen because the artwork for the album was black.
Q: Do you think you will keep using colours for your album names? Will we ever see a Yellow album? Or Pink, maybe?
Dae-inn:
We're not sure if we'll keep using colours for the names of our albums. But if we do, I think yellow and pink would be good colours to use. Who knows, maybe one of those colours can be the name for our new full-length! We'll have to decide what feels right when the album is finally finished.
Q: And this question is specifically for Dae-inn - I was a huge fan of Jellyboy. I still listen to They Dream Day Dream Everyday from time to time, it's my go-to album when I need something good and comforting. Is there any chance that we might be able to see something new from Jellyboy? Or is that done and over with?
Dae-inn:
Although my focus now is only on Apollo 18, I definitely want to make a new Jellyboy album someday. It's something I feel I must due at some point in the future.
Q: Are there any Korean artists/bands that you think are worth checking out? Are there any albums that really impressed you recently?
Dae-inn: Juck Juck Grunzie
and
Jambinai
are two Korean bands that people should check out. Jambinai released their first full-length,
Différance
, earlier this year and it's a really good album. Juck Juck Grunzie are working on music for their first full-length right now. I think they will start recording it this winter.
Q: What's the next country on your list? Are there any countries (or festivals) you would like to perform in?
Sang-yun:
We don't know what country is next on our list right now. There are so many places we'd love to have the chance to play in. I think all of us would like to perform in Europe. It would be really cool if we could go there next year.
Hyun-seok:
Over the last two years, we've been able to perform throughout South Korea, Japan, Taiwan, the United States, and now Canada. We feel really lucky that we've been able to share our music in all these places. We'd love to tour in as many places as we can. If there's a chance to play somewhere new, we definitely want to go there.
All the photos courtesy of Apollo 18.