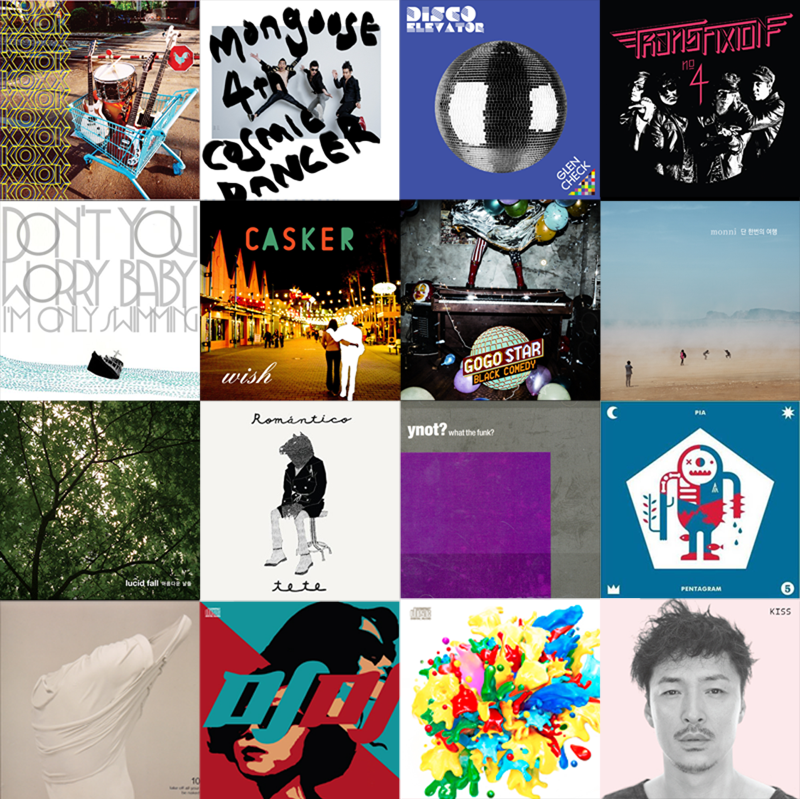 I'm a big fan of korean indie music. been so for the last 4 years. it's a really hard thing to be a fan of, because the music is just so damn
difficult
to come by. especially when you don't live in the country. but over the years I somehow managed to acquire really great albums, songs, and learned about so many amazing artists. of course, most of my korean indie library on my itunes or on my shelf is all probably considered the more 'popular' side of korean indie; artists that are often featured on radio shows, used in tv shows, belong under well known indie labels. I
wish
I could listen to more obscure stuff, budding musicians who are really really obscure, but their music is extremely hard to come by and ... it's tragic, really. (I'm still looking for Summer Here Kids' first album uguguguuu they sound great but I can't find their album anywhere)
anyway. since I got into korean indie I've been really active in promoting it, and running a k-indie comm on lj and a k-indie tumblr really helped set my image as someone who listens to
a lot
of korean indie music and unfortunately that's not always true. yes, I listen to it, but recently less and less of it, and last year in 2011 I really didn't listen to much of it.
in 2011 I
really
started to become distant from korean indie, I think. I listened to a lot more western music, or tried to at least. the little k-indie I listened to was stuff from artists I was already familiar with - Casker, Telepathy, Jang Gi Ha and the Faces - so whenever someone brought up a new artist that was hitting it big in recent times (artists like Urban Zakapa, Dalmoon, Standing Egg) - I drew a blank. I simply did not care.
So here is a very limited - and biased - summary of my k-indie listening of 2011. I'll divide it into 3 posts:
top 10 songs of 2011, top 5 albums of 2011,
and
the albums of 2011 that could have been
. Here is the first part of the series - top 10 songs of 2011. Mind you, it's a very limited and biased list, because I didn't listen to too much new stuff, so the songs/albums on the list are from whatever I've listened and still remembered in 2011. here we go!
top 10 k-indie songs of 2011
(click on the artist-title to listen to the songs!)
honorable mentions a.k.a. the songs that were almost there but not quite:
Transfixion - 너를 원해
: this song was initially on the list - but I had to take it off. the song is
fantastic
live, but the recorded version on the album is... not as good. I actually listened to this song for the first time when I saw them live, and they were so awesome, but when I listened to the album version.. it lacked the oomph it had when they were performing it live. the vocals lacked the roughness that made the song so great live, and sounded almost too smooth. here, take the
album version (and the questionable music video).
and compare it to the live version above. such a shame.
Ynot? - Livin' In Today
: great song! barely off the top 10.
Mot - 매일 그대와
: anything by Mot should be on all! the list, even if it's just honorable mention. honorable mention because it was part of a compilation and not an official single/original song.
10.
장기하와 얼굴들 (Jang Kiha and the Faces) - 그렇고 그런사이
such
an addictive song. I really quoted this song a lot last year (a lot of people did too, I think) and the music video is just so much fun!
9.
Glen Check - Addicted
ah, Glen Check. I discovered them in 2011 and they're quickly becoming a staple in my "what do I listen to with my white friends?" playlist. they have a certain sound that's not quite Korean, but not quite Western that's really fascinating. Their EP
Disco Elevator
was quite good.
8.
Casker - 47 (ver.2)
oh boy Casker!
I love this group
. I really do. They always manage to amaze me with their music. Yoongjin is a goddes, and Juno is a god. and I worship them. anything they release is probably high up on my list. Their single that they released not too long ago was only 2 songs, but gah they are both so wonderful!
47 (ver.2)
is my favourite out of the two, though. I really like Casker's sad songs, and this song really tugs at my heart. I'm hoping that they'll release an EP or an album soon in 2012.
7.
강산에 (Kang San Ae) - 떡 됐슴다
it actually hasn't been that long since I discovered Kang Sae Ae, and I'm itching to listen to more of his stuff, he is so awesome! this song is my favourite on his 2011 release,
Kiss
.
The song's quite simple; it talks about how he is embarrassed of how drunk he was when he first met someone and would like to meet again when he's sober. lol. I feel like a lot of people can relate to it. and the beat is just so damn catchy! it's a really fun song.
6.
Lucid Fall - 불
I have a lot of feelings when it comes to Lucid Fall. Another artist that I missed this summer (he started his concert tour the
day before I left Korea.
I almost cried.). I really think I'm in love with him, no joke. HE IS PERFECT. But I digress. His album
Beautiful Days
which was released a few weeks ago (I think. late december) is really beautiful. Not quite good as the preceding
Les Miserables
in my humble opinion, but good nonetheless. This song is my favourite from
Beautiful Days
, and quite possibly one of my favourite songs by Lucid Fall. It has a beautiful, low-key sound, and the lyrics are magnificent:
난
내가 두려워
나를 삼키는
뜨거운 불길
세상은 두렵지 않아
난 내가 두려워
난 내가 두려워
5.
The Koxx - 12:00
The Koxx!!! yet
another
musician I managed to miss during my time in Korea over the summer and hated the world for it. a great band, and their 2011 release
Access OK
was a
gem.
Really loved the whole album, despite the poor English, and loved
loved
their single,
12:00
. It's a really fun song, with a beat you could move your shoulders to. damn, I'm so sad I didn't get to see them.
4.
Mongoose - 우리는 하나
하나! 우리는 하나! 결코 둘이될수 없는 하나! 친구! 영원한 친구! 해어져있을때도 하나야~! ahh. the song of my life circa 2011. this song so smartly sums up my year, it's amazing. I met some really great friends in 2011, and said good bye to many too. but in the end, we are all one, even if we might be far away. and the beat! and all the cute! I'll probably never
stop
listening to this song, even if I can't stand Mongoose sometimes. (Mongu is just way too cute, and he knows it too! that cute bastard.)
3.
The Black Skirts - Love Shine
There's something so great about The Black Skirts. I think he really makes amazing music, music that you can always go back to. His songs are addicting, comforting, and so
sincere
. His second album,
Don't You Worry Baby (I'm Only Swimming)
(how awesome is that title!?), released in 2011, was an interesting listen, and had a couple of really great songs.
Love Shine
is one of them. I really liked this song a lot.
2.
lucia with epitone project - 안녕안녕
they say that epitone project is the next toy and that really is accurate, I think - he writes such beautiful songs. this song really got me hooked, and I started listening to Epitone Project more seriously afterward. and lucia's voice is just simply magical here!
and the number 1 k-indie song of 2011 is.... *drum rolls?*...
1.
Tete - Romantico
10-2 on this list could chance places with each other any moment and I would probably not have anything to say about it - but number one on this list is definitely - without a question - Tete's
Romantico
. I won't get into the details much (because it's quite a long boring story) but I came across Tete's music in July of 2011, around a month before his song became super famous thanks to Super Star K. I saw him perform when he was still part of Telepathy, and fell in love with him (he was just so sexy and ugh. I have a huge thing for bassists), came back home and looked him up and - voila! He also had a solo project (full-time now) and had an EP out earlier that year! I decided to dig in further and listened to his single,
Romantico
. and oh boy. I was blown away. the song was extraordinary, so unlike the leather-wearing rock star I saw in person, but
so romantic
and
so catchy
. the lyrics are sexy as hell, too. I didn't have to listen further, I just went ahead and bought the EP. as I was falling in love with Tete, Two Months performed
Romantico
on Super Star K, and the song hit it big! Now there's two versions of the song I can cry over (I really love Kim Ye Rim's voice and Two Months' version is equally good as the original)... and life is good.
coming up next: top 5 k-indie albums of 2011.